Pre-Marriage Preparation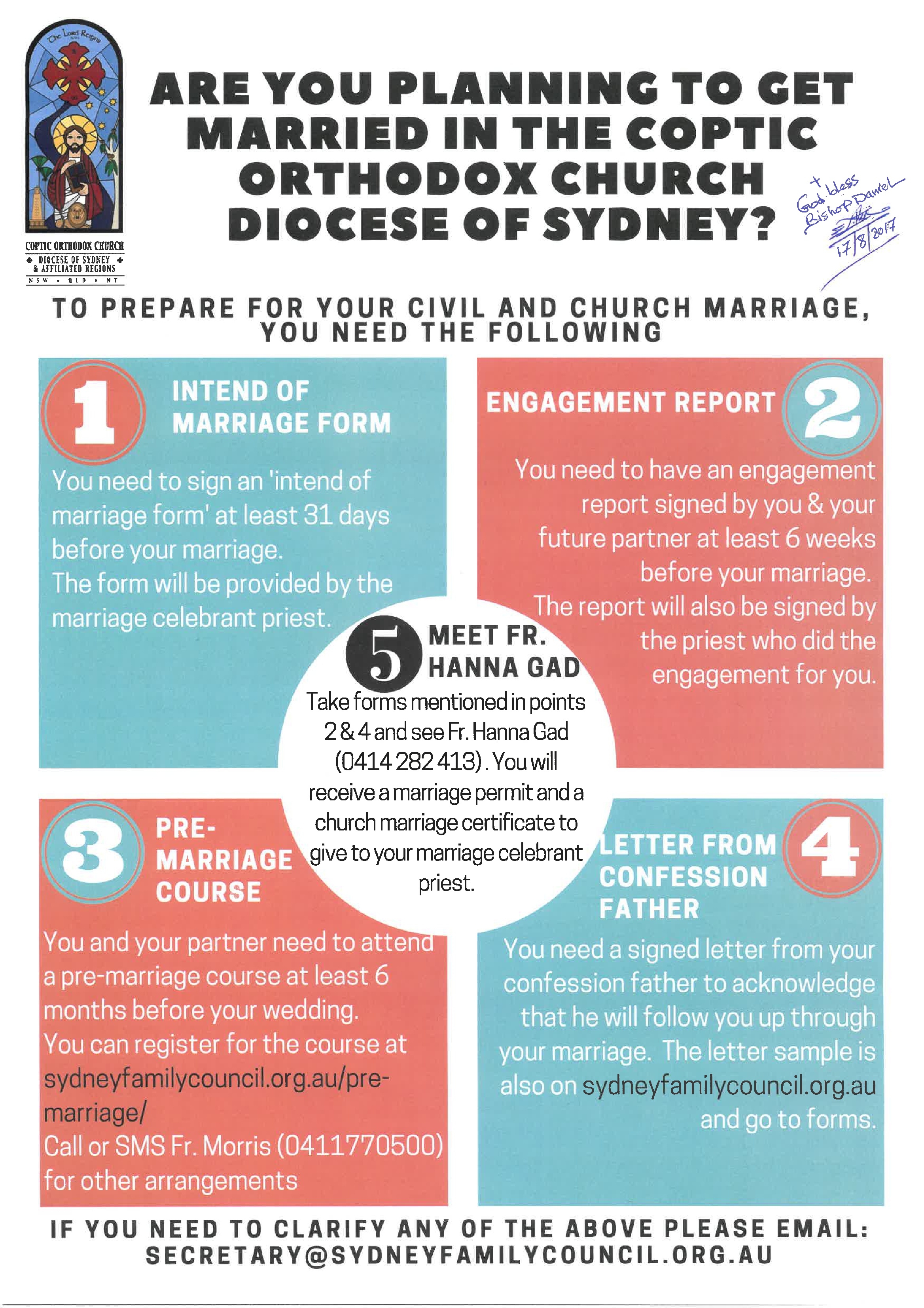 The Holy Synod in June 2016 meeting has made the decision to make the pre-marriage course and the medical examination for those who intend to get married in the Coptic Orthodox Church compulsory effective from 2017
 The Diocese of Sydney has organised the following courses timetable for 2020
1. Sat 28 Mar 2020,   Sun 29 Mar 2020,   Sun 5 Apr 2020
2. Sun  14 Jun 2020,    Sun 21 Jun 2020,   Sun 28 Jun 2020
3. Sun 16 Aug 2020,   Sun 23 Aug 2020,   Sun 30 Aug 2020
4. Sun 15 Nov 2020,   Sun 22 Nov 2020,   Sun 29 Nov 2020
Course place: St Mary and St Abu Sefein Church at 2 Cavill Ave Rhodes, NSW
Course Time: 4pm to 8pm
Course Fees: $25 per person including material and refreshments.
If you wish to have a private course session please contact Fr Raphael Iskander on 0404 862 922 or Fr Morris Morris on 0411 770 500 to arrange a suitable time and place.
To be able to get the Certificate you need to attend the whole three sessions.
Bookings are essential to attend any of the above courses. To book, please fill in the enrollment form. 
Please make sure that the size of the attached form do not exceed 5MB, to avoid any issue when emailing the form back
Please click here to visit our latest course testimonials